Zirconia Oxygen Sensor Heating Element
XMCERA

XIAMEN

45 DAYS

1000PCS
Zirconium dioxide oxygen sensors heating elements
Zirconia Oxygen Sensor Heating Element
Zirconium dioxide oxygen sensors heating elements
Nernst voltage

Two different ion concentrations on either side of an electrolyte generate an electrical potential known as the Nernst voltage. The larger the difference in the ion concentration ratio, the greater the voltage.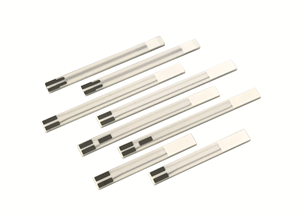 Zirconium dioxide
At high temperatures >650 °C zirconium dioxide (ZrO2) exhibits two mechanisms:
ZrO2 partly dissociates to produce oxygen ions which can be transported through the material when a voltage is applied.
ZrO2 behaves like an solid electrolyte for oxygen. If two different oxygen pressures exist on either side of an ZrO2 element a voltage (Nernst voltage) can be measured across that element.
Price and Lead Times We minimize your cost by assigning your part to the best and fastest XMCERA manufacturing system. Our machining service can handle almost all of the parts we receive from buyers like you, saving you money and shortening lead times. As we say, Quotes in hours. Parts in days. Often, we provide parts in as fast as one day! Consistency When you order prototypes from us, you
...more