Which ceramic is most wear resistance
13-07-2020
In our semiconductor field, silicone is currently most important material in this filed, here will take an example about silicone wafers used which ceramic is most wear resistance .
Silicone wafers is made by rare earth with very thin in 0.5 mm ,which is very harder to push it used the ceramics as a guide for correct the position of the squarish wafer passing the wafer passing through,the wafers machine is working in class100 k ,22-25℃ air conditioning environment also running 24hours.so it is required this ceramics more harder and more wear resistance.
Firstly,we used macro glass ceramics to do a guide in this silicone wafer,but after semiconductor machine works 3 hours feels so soft with the
deep grooves formed from ceramic wear is causing our wafers jam.we
understand that ceramic will wear when in constant contact with wafer
butits wearing too fast too soon.All is due to the macro ceramics is made of by such as SiO2-B2O3-Al2O3-MgOK2O macro ceramic materials
also the vickers hardness is 230 Moh's GPA that means it is feel very
soft can not wear resistance will add up much cost to replace it.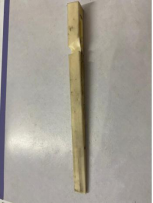 But if used our 99 alumina ceramics can solve this problems well , as it is made of by α-Al2O3 powder、SiO2 、CaCO₃ 、MgO can do a more harder ceramics ,the vickers hardness is 13.7GPA can crate 1400 HV1, the bending strength is ≥360MPA and the compressive strength is 2350 MPA ,in a word it is very wear resistance then macro ceramic also it has very good bending strength good compressive strength,buy one pcs can used more then 3 months,which definitely can save us much purchase cost and the production time. More harder 99 alumina ceramic can greatly improve our production efficiency.
So when if we used in semiconductor field, the 99 alumina ceramic is our most wear resistance ceramic best solutions.